In Need of Excel or Microsoft Tutoring?
I am available to tutor you online in Excel or QuickBooks using the video conferencing tools, or I can host in-person tutoring in the San Antonio, TX, area.
Whether you're struggling with any of these Microsoft products – Excel, Access, Publisher, Word, Outlook, PowerPoint, and Outlook – I can help you navigate the products, teach you new hacks to save your time (and money), and equip you and your team for continued success using these softwares. I know that I can bring efficiency and mastery for creating and editing any of your Microsoft Office documents and projects.
I am a Microsoft Office Specialist. My certifications include Access 2010 and 2013, Excel Expert 2013, Word Expert 2013, PowerPoint 2013, Outlook 2013, which has earned me the certification of Microsoft Office Master.
I have instructed thousand of students, in classroom and online settings.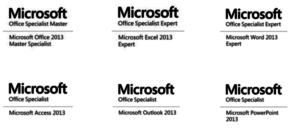 I love connecting people with valuable strategies and "hacks," that they never new existed within the software.
Whether you are aiming to pass a Microsoft Office certification or want to increase your knowledge and skills within any of the Microsoft products, I am confident that I can help you reach your goals!
Let's schedule a time to chat about your Excel or Microsoft needs.