If you have a QuickBooks Online account, you should be performing monthly reconciliations for each business checking and credit card account you have. Reconciliation is the process of matching your bank statements to your QuickBooks registers. This process ensures that you do any course correction such as dealing with QuickBooks duplicate entries or bank errors. Before you can reconcile, you will need to obtain your monthly statement from your bank.
A checking account statement will have the following:
Account Number
Beginning Balance
Ending Balance
Date range period
Summary Information that is helpful for the person reconciling:
Subtotal of Deposits and Additions (Instances)
Checks Paid (Instances)
ATM & Debit Card withdraws
Electronic withdraws
Other withdraws
Bank Fees
Begin a reconciliation by clicking the gear icon (top right) then click reconciliation (under tools menu).
Enter the ending balance and the date ending period. Check the circle for each item that matches the bank statement. If you wrote a check and it did not clear then you would leave that unchecked as it most likely will post in the following month.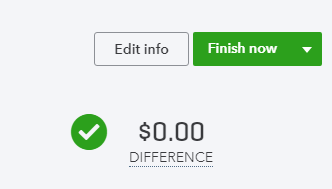 As you check transactions as matched the difference will change. When the difference is zero, then you can click Finish Now. This is when I do my happy dance with my feet. When I am feeling really good about it, I do a double fist pump three times!
Pro Tip: Even after the difference is zero, you ought to review the register and verify that nothing is left unreconciled that shouldn't be.